Brief overview of music history
by Drs. Noeme Visser
The evolution of music follows the line: rhythm, melody, harmony.
In primitive music, rhythm is the more important element.
As civilizations evolve, their music also develops melodies. This happened in Eastern people, Jews and Greeks. Only afterwards comes the evolution to harmony, which happened in Europe after 1200 AD.

Also in Western Europe, music is initially monophonic and vocal, because the voice is the one instrument that is available to every human being. Musical instruments take a subordinate role.
In the 9th century, there is an interest in multiple voicing, although at first it is merely a duplicated monophony.
The second voice moves in parallel with the first.



From the 11th century on, music evolves away from the parallel movement :

This is called counterpoint.
This will eventually evolve into the art of true polyphony where all voices have equal importance.
At first, 'official' music was composed only for religious purposes. The reason for this is that the Church pervaded every aspect of medieval society and also controlled education. Musicians were trained by the Church, often in Abbey schools, where their entire musical attitude was directed towards religious composition.
During 1 1/2 century composers from the low-lands near the North Sea dominate and bring the art of composition to new heights and spead their art throughout Europe. We recognize de various Dutch (Franco-Flemish) Schools:
1e Nederlandse School: -1440 - 1470
--- Guillaume Dufay. Gilles Binchois
2e Nederlandse School: 1470 - 1500
--- Johannes Ockeghem. Jacob Obrecht
3e Nederlandse School: 1500 - 1530
--- Josquin des Prez, Pierre de la Rue, Hendrik Isaac
4e Nederlandse School: 1530 - 1560
--- Clernens non Papa, Adriaan Willaert. Cypriaan de Rore, Lupus Hellinc
5e Nederlandse School: 1560 - 1590
--- Orlando di Lasso. Philippe de Monte, Jacobus de Kerle.
These composers were masters in polyphonic art forms like the motet (a multi-voice vocal religious composition) in which sometimes different texts were used; and multi-voice settings of the various parts of the mass: Kyrie. Gloria, Credo. Sanctus en Benedictus, Agnus Dei.
The composer Adriaen Willaert became organist and m.d.c. at San Marco in Venice. He became the founder of the Venetian School which developed the madrigal, a secular counterpart of the motet. Texts are often platonic love songs.
Because these Franco-Flemish composers were internationally renown and also often worked outside their country of origin, their works are rarely on Dutch texts.

During the 4th Dutch school, protestant church music is developed in Germany by composers like Jhann Walther and Jacobus Gallus (aka Handl); Hans Leo Hassler, Michael Praetorius en Heinrich Schütz. French contemporaries are Goudimel, Bourgeois and Lejeune.

During the 5th Dutch School, Giovanni Palestrina - active in Rome - brought the Roman Catholic church music to new heights.
During this period instrumental music became an art form in its own right with composers like Jan Pieterszoon Sweelinck (1562-1621), organist at de Old Church in Amsterdam; Giovanni Gabrieli (Venetie) and William Byrd (Engeland).

Aan het einde der 16e eeuw wordt in Florence de grondslag gelegd voor het ontstaan van de opera o.m. door Claudio Monteverdi, naar het voorbeeld der oude griekse tragedies, waarvoor men ten tijde van de Renaissance een grote belangstelling had. De ontwikkeling van deze compositievorm heeft tot gevolg. dat de schrijfwijze veel minder polyfoon wordt, maar meer homofoon, waarbij vaak een melodiestem het belangrijkste wordt gemaakt. waaraan de andere stemmen zich aanpassen.


De de polyfone schrijfwijze doet denken aan horizontale lijnen, die samen een klankbeeld opleveren
MUZIEKVOORBEELD Christ lag in Todesbanden van Walther.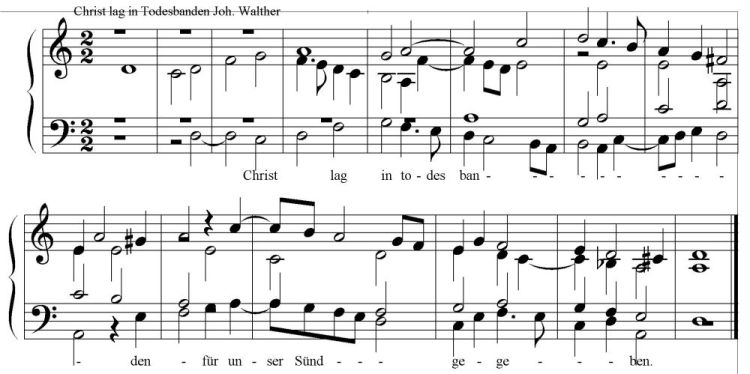 De homofone schrijfwijze doet denken aan een horizontale lijn. waartegen verticale lijnen (de begeleidende accoorden) zijn geplaatst
MUZIEKVOORBEELD Psalm 119 van Hellendaal. .
Ten tijde der Renaissance en de daarop volgende Barok (ca. 1600 - 1750) ontwikkelt zich in sterke mate de wereldlijke kunst. Hiermee samen gaat ook de gehele muzikale ontwikkeling veel sterker in de richting van het instrumentale, waarbij in Italie meesters als; Corelli. Vivaldi en Scarlatti. in Frankrijk: Lully en Rameau, in Duitsland: Telemann en J.S. Bach en in Engeland:
Purcell en Handel toonaangevend zijn.
In die tijd zijn er nog wel navolgers van de oude R.K, kerkmuziekstijl, zoals Lotti en Caldara.
De protestantse kerkmuziek kent in die tijd grootmeesters als: Buxtehude, Pachelhel. Tunder en Böhm die de geestelijke cantate, een instrumentaal begeleide vokale compositie, ontwikkelden. Hieruit en hiernaast ontwikkelt zich de geestelijke tegenhanger van de opera; het oratorium, dank zij grote componisten als Graun, Bach en Handel.
Nederland kent dan weinig componisten van formaat meer, genoemd kunnen worden: Willern de Fesch en Pieter Hellendaal.
Het eind van de 18e eeuw brengt met een enorme opbloei van de ontwikkeling van de instrumentale muziek. vooral die van de orkestmuziek en een verval van de vokale kerkmuziek.
Het is de tijd der klassieke meesters. zoals Haydn (1732-1809), Mozart (1756-1791) en Beethoven (1770-1829), die zich ook in hun composities bezighielden met de vokale geestelijke muziek, zoals blijkt uit beroemde composities: Nelson-Messe, die Schopfung (Haydn), Kronungs-messe, Requiem (Mozart), Mis in c en Missa Solemnis (Beethoven). Deze muziek is evenwel sterk op de concertzaal gericht.
Ook de tijd van de Romantiek (ca. 1815-1914), die dan volgt. kent componisten, die zich met de vokale muziek bezighouden. Allereerst operacomponisten. zoals Rossini, Donizetti, Auber,
Lortzing, von Weber, Wagner en Verdi. Maar ook oratoria worden gecomponeerd, zoals door Schubert (Missen), Mendelssohn-Bartholdy (Elias. Paulus), Schmnann (Das Paradies und die Peri) en Brückner (Missen). Veel kleinere koorcomposities worden dan ook geschreven door Schubert en Brahms.
Omstreeks 1809 stichtte Carl Zelter in Berlijn de eerste Liedertafel, die al snel veel navolging vond. Dit waren oorspronkelijk kleine groepjes zangers uit select gezelschap; die uit gezelligheidsoverwegingen samen zongen. Hieruit ontstonden de mannenkoren.
Na de eerste wereldoorlog ontstaat een hernieuwde belangstelling voor de kerkelijke muziek, vooral in Duits-protestantse kring, zoals bij componisten als Pepping. Distler en Reda. Ook oratoria worden gecomponeerd o.m. door Honegger (Jeanne d'Arc au bûcher, Roi David). Tippett (A child of our time) en Britten (War Requiem). Maar vooral door een hernieuwde be-
langstelling voor het volkslied is er een grote opleving waar te nemen in het componeren van wereldlijke koormuziek, zoals bij Orff (Carmina Burana), Hindemith, Bartok, Kodály, Britten en in Nederland Badings.