AveWiki= the interactive counterpart of Geert's Ave Maria Pages

If you like Ave Maria, you'll find something you like!
Lolita De La Colina
From AveWiki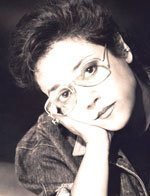 Aliases:
artist name of Dolores De La Colina Flores
Life
Born: Unknown
Died: living composer
View Wikipedia article for Lolita De La Colina.
List of Ave Maria settings
This is the listing from Geert's Ave Maria pages, with links to the corresponding pages.
1. c1992 Ave Maria performed by Stephanie Salas on CD: Ave Maria (1992) 

| Click here to search for this composer on AveWiki }}
Biography
If you want to add extended biography information, please do it here, instead of at the top of the page.
Publications
External links
add web links here